Powering Your
Potential
for a great career and fulfilling life.
As a global technology leader providing a wide range of power solutions, we know what drives our success: great people. We care about you—your whole self—throughout each part of your life and career as a sales and service professional. We recognize that our sales and service teams are invaluable to our success, and to the success of those we serve. And we reward that with career advantages that last a lifetime.
Exceptional benefits and advantages - helping your life run smoothly, throughout your career and beyond.
We'll expect you to keep our clients' equipment working flawlessly, so their businesses can run at top speed and efficiency. That's why you can expect us to offer the kinds of advantages, including benefits and career-advancement resources, that propel you forward as well. Our dedication to your success doesn't end when your career does - our benefits stretch well beyond your working years.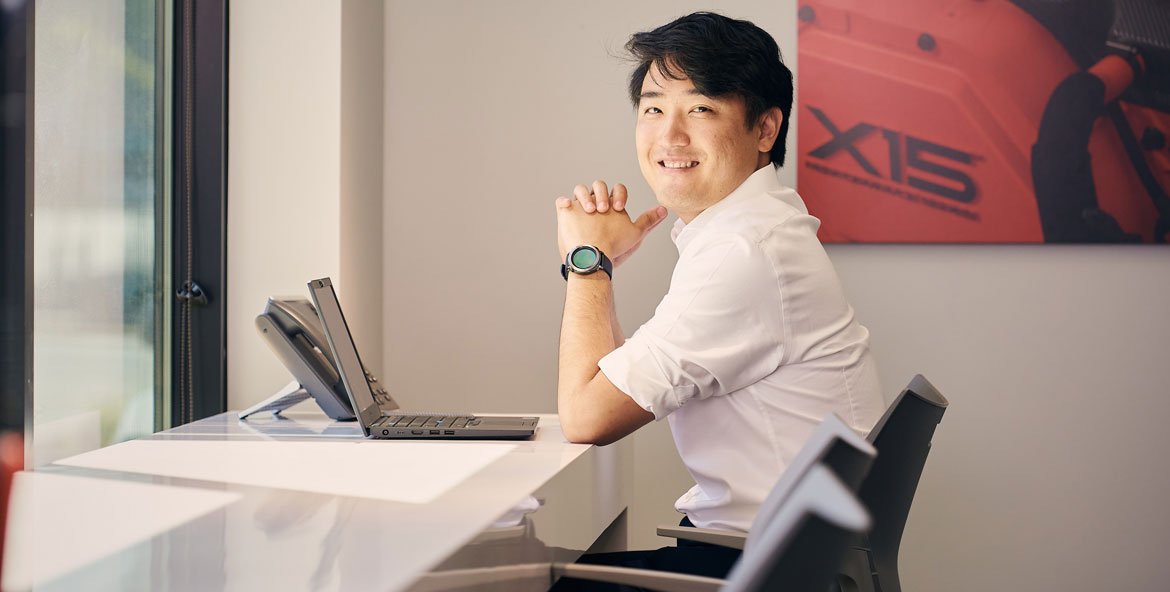 Explore engaging opportunities to serve industry leaders.
Your work will have a major, positive impact on the way industries and entire nations work. From marine, construction, agriculture, rail, mining, forestry, vocational, defense, to the oil and gas industry, what you do will make a difference. Serving clients in need of on-highway, industrial, and generators & power systems services, you'll have every opportunity to learn, grow, and succeed from the best & brightest.
Work for the best—and be treated like the best.
Serving customers in more than 190 nations, we offer professional resources, including training and development, to help you achieve your most important career objectives and move forward in your career. With state-of-the-art facilities, you'll also have the opportunity to gain experience with cutting-edge technologies and tools to solve critical issues.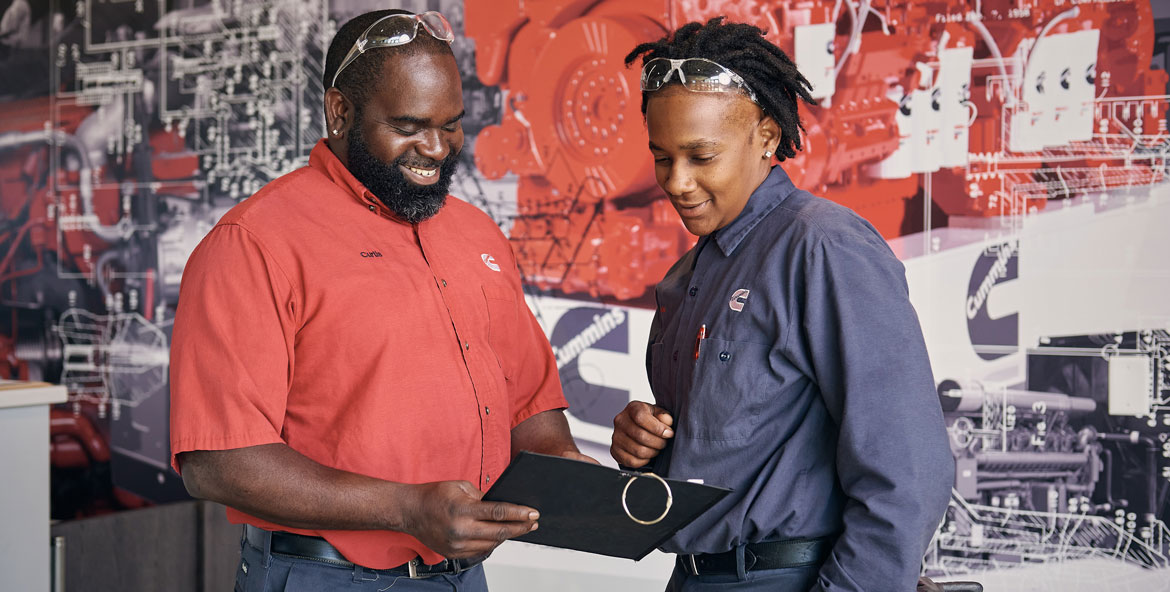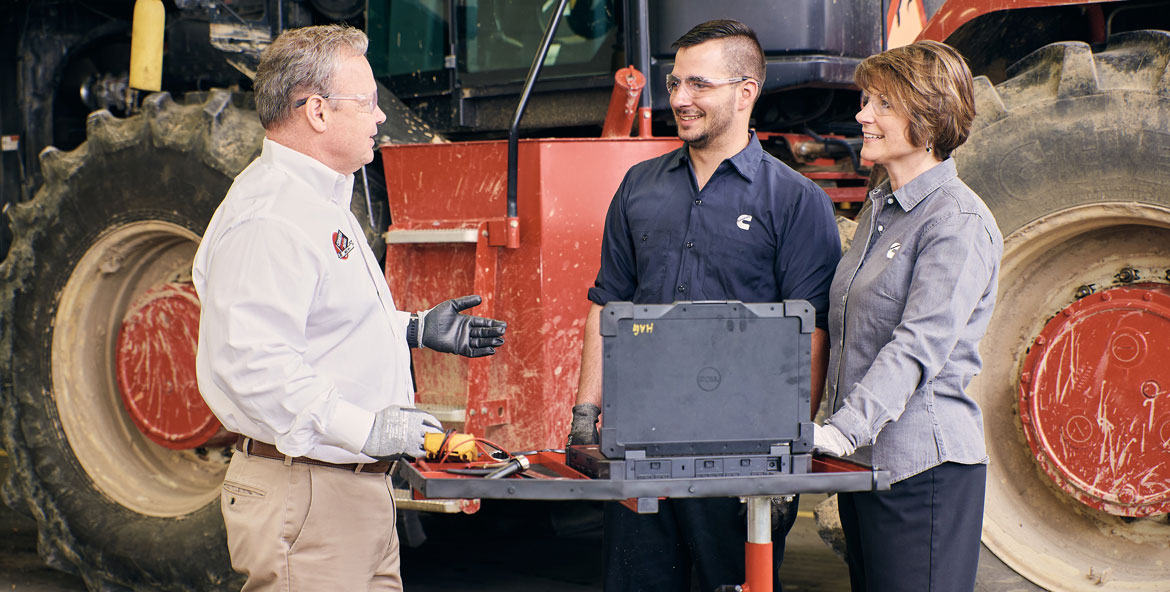 Our employees are loyal for good reason.
Why do our sales & service team members stay with Cummins? We believe that our impressive team member tenure is due to the fact we remain true to our values and to the best interests of every employee. In short, we treat people as they deserve to be treated: With respect for their strengths, a primary focus on safety, and proper recognition for a job well done.
Sales and Service Professional Benefits
Let's Hear from the Team:
Employee testimonials.
What do you love most about your job?
I love when I bring broken trucks in on the forklift and they drive out working right; that's a great feeling. And it's also pretty cool that a lot of people think when you're differently abled like me you can't do this kind of manual labor, so it's cool being able to do that every day and defy the stereotype.
Adam P.
Diesel Technician
What's your favorite thing about working here that has kept you here all these years?
I like the people I'm working with now. We kind of function as a small team; we all come together to solve problems and get work done.
Brian M.
Service Technician
How do you feel about Cummins?
Well I knew that they did amps in the military and then, of course, we're the best diesel engine manufacturers. I actually drive a Cummins. But to work for Cummins, they're a really good employer—you've got good benefits, you have a great culture, and it's very diverse, just like the military.
Cameron R.
Power Generation Technician, Veteran
Do you feel like you have support from your leaders to grow?
Yes, and I can always go talk to Ken, Dave, or my supervisor. They're all pretty understanding, and if there's something we don't agree on, we can sit down and hash it out. Maybe it's just a misinterpretation. Here, all the managers are willing to listen and see what we can do.
Derek F.
Service Technician, Veteran
What is the culture like and what do you like about it?
I like the fact that there is flexibility to change your role—I won't always have to be a technician. You can move around; Cummins has got so many different positions that give us tons of flexibility. So there's the opportunity to change career directions; I like that. The benefits are great; I like that. I like the safety and how they care about our wellbeing. I like the structure and the way the leadership is set up and how we can see where the hierarchy is.
Matthew B.
Diagnostic Technician
Have you been able to participate in any community involvement activities?
Yes! I did the EEEC program. We worked with a veteran's foundation in Indianapolis that works with homeless vets. We went down there and stocked the food pantry, organized everything, stocked the clothing room: especially coming from the military, giving back to those who gave our country so much is another amazing thing that I love about Cummins.
Matthew H.
Technician, Veteran
What really attracted you to Cummins?
I liked it when I was in high school; I knew about the engines. I went to school for diesel mechanics before the navy. They did a little program at the school I went to that they came in and showed everybody everything. And I just knew this is where I wanted to be, and the brand name of Cummins being so famous—you just know this company is going to be around for a long time. Another 100 years.
Tyler B.
Diagnostic Technician, Veteran
Do you feel like you're making an impact at Cummins?
I do feel like I'm making an impact on the world. I help repair public transit vehicles and engines; coworkers of mine repair generators for hospitals. All the technicians here have really important roles in keeping Western Pennsylvania moving.
Austin K.
Journeyman Diesel Technician
Join our sales and service team.
Find your fit and apply today.
The job requisition includes if the role has been designated as onsite, hybrid or remote.
Not Ready to Apply?